Definition of High-end Industry

High-end industry is an advanced high impact industry within the various industrial sectors comprising agriculture, manufacturing, information technology, trade and also the service industry. Areas under these sectors include medical, hospitality, halal industry, engineering and design consultation. High-end industry generally involves high investment cost, advanced technology, sophisticated and innovative approach, and it is able to generate economic growth and create new high-income economies. These are areas in the industry which take up the roles of engine and catalyst that will drive future economic progress.VisionTo develop quality Malaysian workforce that is capable of delivering high-income economy which is both inclusive and sustainable.MissionTo ensure Malaysia has the high-end skills needed to enable Technology Innovative Malaysia.The Programme

HEIGIP involves graduates who work in positions which allow them to undergo on-the-job training instead of being merely employed without the opportunity of job enhancement. The aim of this internship programme is to fulfil the educational and professional competencies of students in high-end industries under supervised work setting. On-the-job training in a supervised work setting incorporates the following elements, namely:

-    Experiential learning strategy in areas of specialisation
-    Special emphasis on professional development
-    Reflections and acknowledgement.HEIGIP GoalsThe aims of HEIGIP are:-
     To nurture graduates with specific capabilities for the right industry;-              
     To develop graduates' strategic and creative thinking skills, besides enhancing their confidence and self-esteem (leadership);-
     To build specific areas of expertise based on mutual interest for both graduates and industry;-
     To encourage the application and transfer of academic learning in specific disciplines, to the work environment, and vice versa (sustainable development).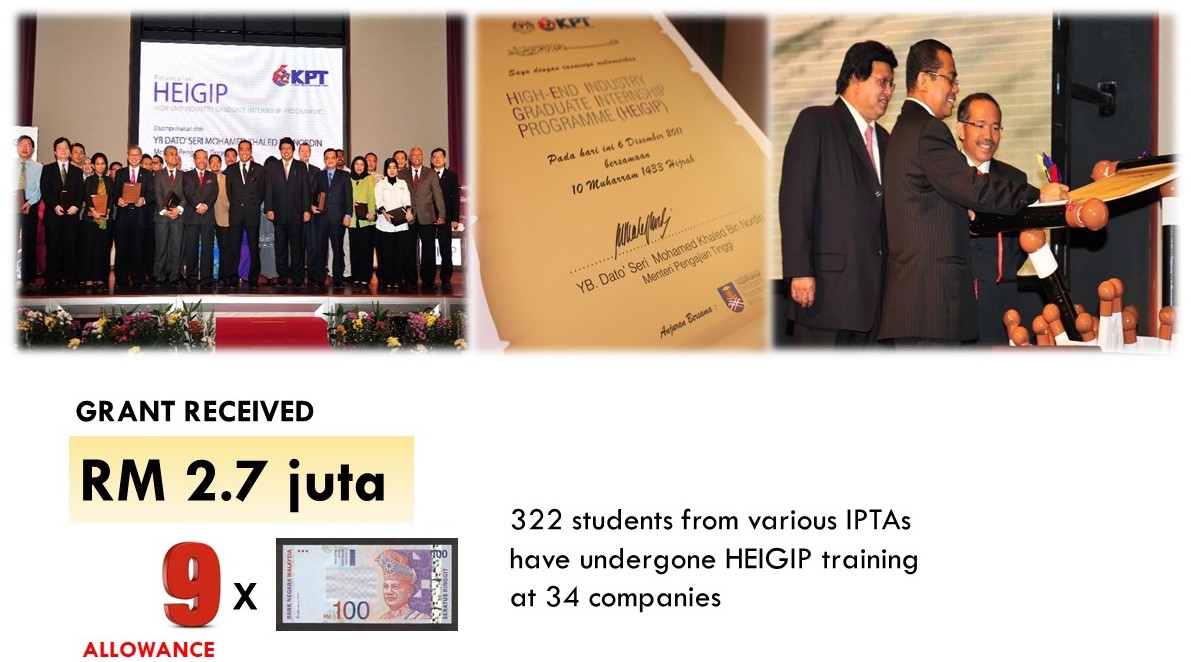 The NKEAs
The Economic Transformation Programme (ETP) by PEMANDU has identified 12 National Key Economic Areas (NKEAs) each of which is a driver of economic activity that has the potential to directly and materially contribute a quantifiable amount of economic growth to the Malaysian economy. They are significant engines of future growth and their expected contribution to Gross National Income (GNI) in 2020 will help Malaysia achieve high-income status.
HEIGIP Governance Framework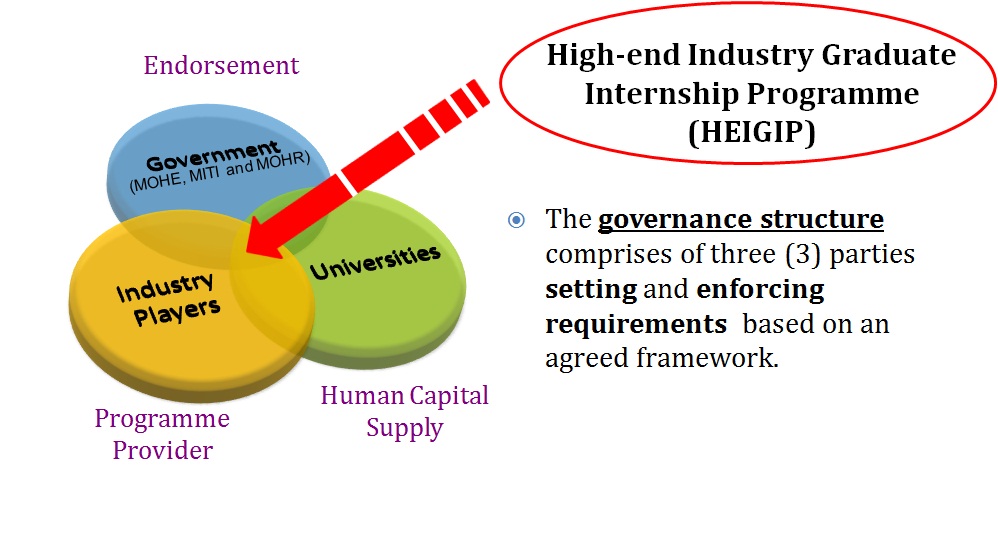 Benefit Include
To ensure Malaysia has a well-planned workforce to meet the high-end industrial demand.
To make Malaysia attractive to foreign investors and to sustain the high-end industries in the country.
To produce graduates with technical and professional skills through regulated training programmes provided by both university and industry.
To resolve the issues of industrial placement of university students in high-end industries.
Heigip Pilot Intake
Students to be selected must be at the level of study as follows: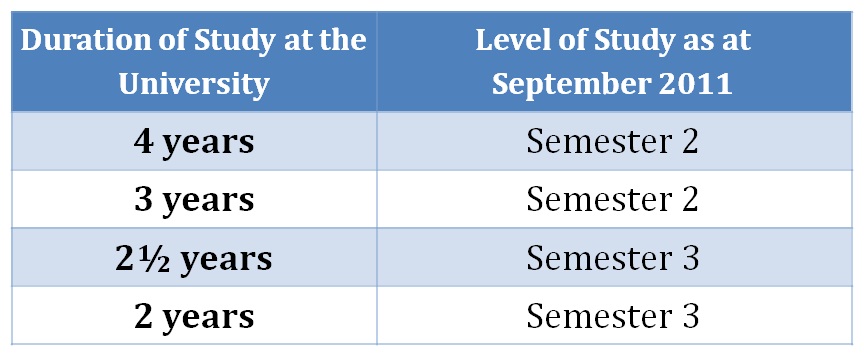 Sources and Application of Fund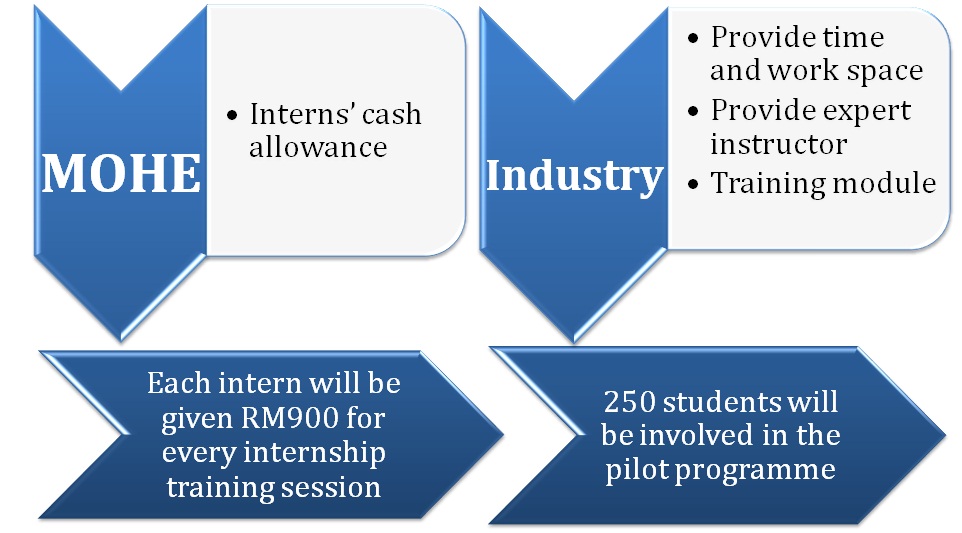 Training Structure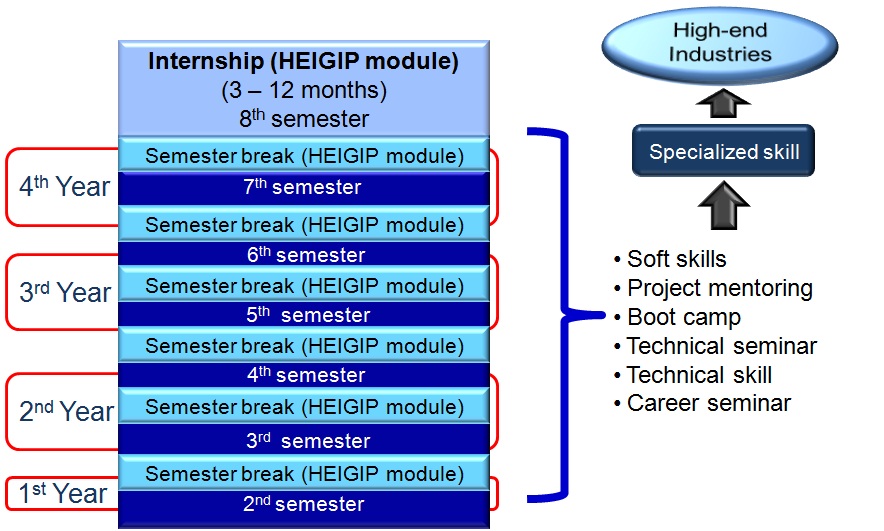 Heigip Partners
Summary
HEIGIP is designed as a mechanism to solve issues relating to inadequate number of experts to fill the needs of high-end industry. It is also a tool relevant in achieving the objectives of the New Economic Model. The support and approval from the government and commitment of industries to implement this programme are vital to ensure Malaysia's aspiration to become a nation of high-income  economy will be realised.
Contact Person
Head
Graduate Employability Unit,
Industry Network Center (INC),
Office of Industry, Community, Alumni Network (ICAN),
Level 4, Block 1, Intekma Residence Shah Alam, Seksyen 7,
40000 Shah Alam, Selangor
Tel : (+603) 5521 1650 /1653 / 5544 2831/3915
Fax : (+603) 5544 2821